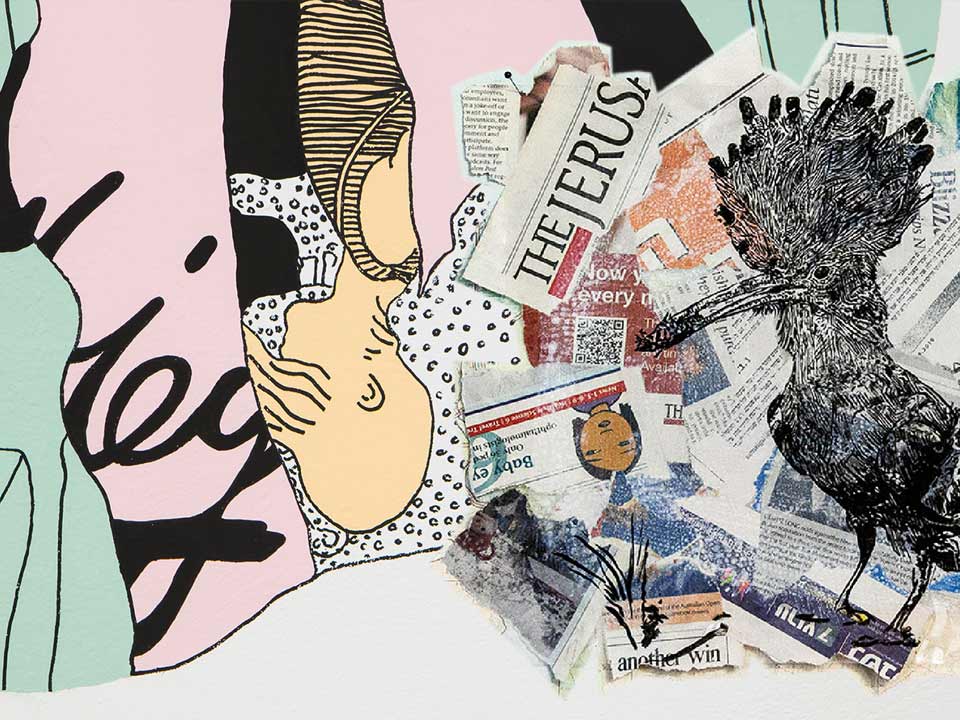 Chronos und Kairos
An exhibition by Stefanie Gerstmayr and Rolf-Maria Krückels
Private view: 15.10.2020, 6 – 10 pm
Catalogue presentation: 12.11.2020, 6 – 10 pm postponed
Exhibition: 16.10.2020 – 10.12.2020, visible from outside
There will be a video performance accompanying the show.
You can watch it online from 15.10.2020 via this link.
Kunstbüro reillplast
Amalienstr. 21, 80333 Munich
English:
In ancient Greece Kairos represents the moment of opportunity, the perfect instant. If you can´t catch their forelocks in time, they vanish without you – following behind is not possible due to their bold back of the head. Chronos however preserves the order and chronology of history. Although our daily live depends on the idea of time as a linear process, in our physical reality we are only able to perceive it as a neverending present. In the NOW we are compositions of multiple exposure of all gone versions and future potentials of self. This contradiction became the foundation of a collaboration between Stefanie Gerstmayr and Rolf-Maria Krückels. In the exhibition space murals communicate with drawings in ink and objects.
Deutsch:
Zur Vernissage und Finissage möchten wir die Besucher bitten die ausgeweiteten Öffnungszeiten von 18:00 bis 22:00 Uhr auszunutzen, damit es aufgrund der Größe des Ausstellungsraums nicht zu Wartezeiten kommt. Zudem bitten wir um das Tragen eines Mund-Nasen-Schutzes.
Kairos steht in der griechischen Antike für die günstige Gelegenheit, den richtigen Augenblick. Ergreift man nicht rechtzeitig seine Stirnlocke, entschwindet er – denn sein Hinterkopf ist kahl. Chronos hingegen steht als "Väterchen Zeit" für die Bewahrung der Chronologie und die Ordnung der Geschichte. Unser Leben bauen wir zwar auf eine lineare Vorstellung von Zeitlichkeit auf, doch in der physikalischen Realität können wir diese nur als ewige Gegenwart erleben – als wären wir Mehrfachbelichtungen aller vergangenen Versionen und zukünftigen Potentiale unserer Selbst. Dieser Widerspruch wird Ausgangslage der Kollaboration von Stefanie Gerstmayr und Rolf-Maria Krückels. Im Ausstellungsraum interagieren Wandbilder mit Tuschezeichnungen und Objekten.